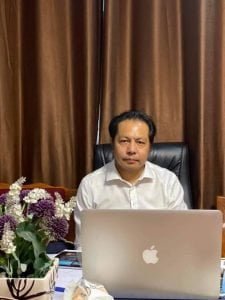 Vawlei cung ah i chawnh khawh mi pulrai zawtnak pawl
============================
By: Dr. Sui Hingz
Kan hnu kum 20 chung ah kan vawlei ah tih a nung mi le i chawnh khawh mi zawtnak (epidemic) phun 4 kan zoh ahcun,
1.SARS = Severe Acute Respiratory Syndrome (2003)
2.MERS = Middle East Respiratory Syndrome (2012)
3.Ebola = Ebola virus disease – EVD (2014–2016, West Africa)
4.COVID -19 = Corona Virus (Jan 2020- Wuhan, China)
Epidemic = Khulrang tein i chawnh khawh mi zawtnak
Pandemic = Vawlei cung ram kip le rampumpi hmun kip ah a karh mi zawtnak
SARS = Severe Acute Respiratory Syndrome hi February 2003 ah China ah a chuak i ram 24 tiang ah a karh. SARS he aa pehtlai mi Coronavirus in a chuak mi a si i atu Covid bantuk in airborne -thli in tidor (droplet) in i chawnh khawh mi le thil tawnghnak zong in aa chawnh kho mi a si. Ni 2 in 7 tiang hrawng hi pum chung ah a keuh (incubation) hnu ah faklak in a zawt hna. Minung 8000 hrawng an zaw i 774 an thih ca ah minung 100 ah 10 an thi tinak a si. (CDC)
MERS = Middle East Respiratory Syndrome hi Middle East ah Kalauk (camel) in a ra mi zawtnak a si. Middle East, Africa le South Asia ah ram 27 ah a karh. A zawmi zapite i 34% an thi i 858 an thi (WHO). Cucaah minung 100 ah pa 34 an thi. Tukum 1 January 2021 to 2 August 2021, tiang ah Saudi Arabia (11) United Arab Emirates (1) tiin tukum chung ah MERS mizaw 12 an hmuh hna i pa 5 an thi. (A hram: 9 Aug 2021, European Centre for Disease Prevention and Control)
Ebola = Ebola virus disease – EVD (Ebola haemorrhagic fever) hi palak, sakuh le hnuk a ding mi saram lak i a sang bik phun zawng tehna (primates) phun in a rami zawtnak a si. A zawmi 100 ah 50% an thi. 2014–2016 kar ah West Africa in aa thawk. Congo ram ah 2017 in 2021 kar zong ah hi zawtnak hi voi 6 hrawng ruah lo pi in a hung cang lengmang (WHO). Ebola Tiva a umnak a tu Congo ram ah 1976 ah an rak hmuh hmasa bik i 2021 ah a zawmi 12 an si i pa 6 an thi, Guinea ram zong ah 23 an zaw i 12 an thi, 2020 kum ah Congo ah 130 an zaw i 55 an thi (cdc.gov).
Covid -19 hi cu zapi theih a si ko i nihin (11 Aug 21) tiang a zawmi hi nuai 204 tluk an si i a thimi hi nuai 4.3 an si. A zawmi 100 ah 30 le 40 kar an thi (WHO).
Cun seasonal flu ti mi khuacaan zulh in a cang mi Tlangrai- influenza, flu hi 100 ah 5 cu an thi ve. Hi Lak ah SARS hi i chawnh a fawi bik, cun tih a nung bik cu Ebola hi 50% an thi i MERS hi 34% an thi, Covid hi 100 ah 30-40 kar an thi caah tih a nungmi pulrai pawl an si.
Hi zawtnak phun 4 hi kan zoh ah saram in a rami zawtnak pawl an si ca ah Covid, Ebola le MERS hi an chuah peng tik ah hi vawlei in an dong ti lai lo, vawlei a hel lai i a chuah peng ko.
Cucaah kan pum chung ah zawtnak dohtu (antibody) a that ding ah vaccine chunh hi a biapi bantuk in lengchuah zong ah i ralrin peng a hau bantuk in pumpak cio nih ngandamnak ah eidin i ralrin zong a hau i lente aa celh kho lo ca ah lamlen tibantuk hi damnak le antibody a thatter ca ah i zuam cio hna usih.
#Crd Hi theihtlei cabia hi Dr. Sui Hingz facebook cahmai ah laakchin mi a si.