Italy Ah Tuahmi "Democracy in Myanmar" Conference Ah NUG Cozah UN Palai le Vuanci 2 An I Tel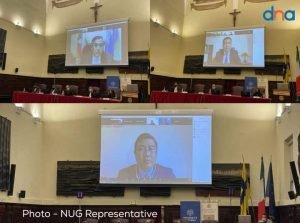 Italy ram Pama University ah tuahmi Myanmar Democracy kong conference ah NUG cozah UN Palai U Kyaw Moe Htun le Vuanci Pahnih an i tel tiah theih asi.
"Freedom from Fear- Democracy in Myanmar" timi tlangtar in Pama khuapi Pama University ah November 15-20 tiang tuah cuahmahmi conference nithumnak ah NUG Cozah i UN Palai simi U Kyaw Moe Htun, Vuanci Dr. SaSa le Foreign Ministry zung in Doh Vuanci U Moe Zaw hna an kai i ceihhmainak an ngei ve tiah Czech Republic konglam NUG Representative Office nih a thanh.
NUG UN Palai le NUG Vuanci pahnih hna nihcun " Discontinued Democracy, The Coup in Myanmar an the Resistance " tlangtar in tulio Kawlram ramkhel dirhmun, Ralhrang nih minung covo an buarnak, Myanmar mipi nih Democracy caah thazang an chuahnak, Vawleicung ramkip nih Myanmar Democracy caah bawmhchanh a herhnak kong pawl an chim.
"Democracy in Myanmar "conference ahcun Senator Albertina Soliana, Italy Senate Foreign Committee Chairman Piero, Pama University Professor Paulo Andrei, Pama khuapi Vuanci Federico, Pama District Vice- Chairman Giuseppe Delstante, Suh Foundation Chairman Jean Todt le Michael Marett- Crosby hna an kai i biatawi an chim hna.